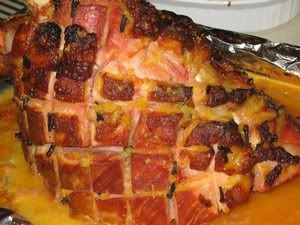 I was looking for a good way to prepare a ham that might be a little different than the usual. Talked to some friends that have used brown sugar and mustard. The following is the directions for this glaze. Sounds good. Going to try this for New Years Day!
Will report back if it is good or not.
-----------------
INGREDIENTS
Spiral Sliced Ham, Butt or Shank Portion Ham, or Half Ham
1 1/4 cups dark brown sugar
1/4 cup Dijon-style mustard
DIRECTIONS
Prepare and heat ham according to package directions.
Meanwhile, combine brown sugar and mustard to make glaze.
Brush glaze on your Cook's brand ham 30 minutes before meat is done. Heat ham uncovered for final 30 minutes. Carve ham and serve.